2015 Maserati Ghibli S Q4
Here is a write up for how to install the FitCamX Dash Camera into your Ghibli.
So, all you're going to need is a Phillips Screwdriver, a plastic trim tool and some beer! To start with, remove the two screw/mic covers from your overhead console by gently prying them off from the top, and reveal the screw on each side.
Remove each screw under these covers. Next, slide the overhead console slightly backwards towards you, and pull it out. Disconnect the brown plug from it and set it aside.
Stop and have some beer! 🍺
Remove the three small silver screws from the black plastic bezel (one left, one right, one in the middle).
Now you can unplug the harness with the grey plug from the sunroof motor, and connect the camera harness to said plug, and plug back into the sunroof motor. (NOTE: I realize in the photo below, my sunroof motor is not installed. Just ignore that haha!)
Stop and chug the rest of your beer. You're doing great but the hardest part comes next! 🍺
Now it's time to remove the mirror surround cover from the windshield. Simply use your pry tool on each side, and the bottom, and separate the two halves. They're attached to each other with mounded snaps, so don't be afraid to give it a pull if needed.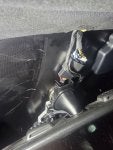 With the cover removed, fish the camera wire up through the hole in the middle of the headliner against the windshield with the existing wires and connect the camera wire to the harness you just plugged in.
⚠ Don't forget to remove the blue plastic film from the camera lense if you haven't already. ⚠
Finally, install the camera in its place on the windshield. It clips in the same way the old cover did, on the sides and bottom, and the two halves clip together. Make sure everything is lined up and snug.
Stop and grab another beer, you've just completed the most difficult part of the install, and it wasn't even that bad! 🍺
Now you can reassemble the overhead console. Start by tucking the harness up into the big empty space next to the sunroof motor, reinstall the three small screws into the black plastic frame, and plug the overhead console back in to the brown connector.
Finally, you can slide the overhead console back into place, making sure the two tabs on the back side slot into their respective holes. Reinstall the two screws, one on each side, and clip the small black covers back on.
Chug that beer, you're almost finished!! 🍺
Now all you need to do is download the FitCamX app from your respective app store, and go through the setup process to pair it with your device. All camera settings can be changed once you connect to the camera with your device, including parking mode settings, resolution, and recording length.
And that's it! Sit back, grab another beer and admire your work! 🍺