ok i am just asking how is update uk?
Upgraded to 2016 maps. Now, rather than downloads, the USB stick comes in the mail. You have to activate the stick using the Unit ID number. 45 minutes to an hour, as standard upload time. Cost 149+tax=157.94. No need to schedule dealer visit, except of course for the two new recall/service letters for the rear tie-rod and now strut inspection. Was just there a few weeks ago for condensation in left rear taillight and brakelight failure, and squeak/vibration in rear door...not too keen on the loaner base 2016 Ghibli.
ok i am just asking how is update uk?
I have a 2016 Mas Ghibli SQ4. I followed the steps listed here:
Identify Unit
and was able to identify my UNIT ID # and verify my software was up to date. I can now move on to the steps required to update my Garmin Gps Software map. I can't figure out how to navigate to get to the steps listed below in order to determine if I have a "VP3" or "VP4" System. Do I get this info the same way I got to the Unit Id? Via Nav----Settings----System----About? Or is this the wrong screen? FYI: I don't see a "U-connect" icon on my main screen. Perhaps someone can post screen shots of the steps. (Also, I did select the 2016 Chrysler 300 for software update at this link:
Uconnect® | Navigation System GPS Map Update Home
Not sure if I should've selected the 2015 though.
"Please follow the instructions below to determine which navigation system you have:
While in your vehicle with the key, turn the ignition to the RUN/ON position. Turn the Uconnect touchscreen ON
Open Settings Menu
Select the Settings button
Scroll down and select System Information option at the bottom of the list
The current system information will then be displayed on the radio screen. It will be either VP3 or VP4:

If you have a VP3 System, as shown in Option 1, click on the 'View Product' button below to purchase a map update
If you have a VP4 System, as shown in Option 2, click on 'View Product' button below to purchase a map update
Option 1 (VP3)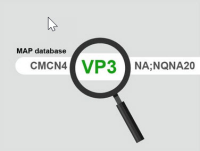 View Product
Option 2 (VP4)
View Product